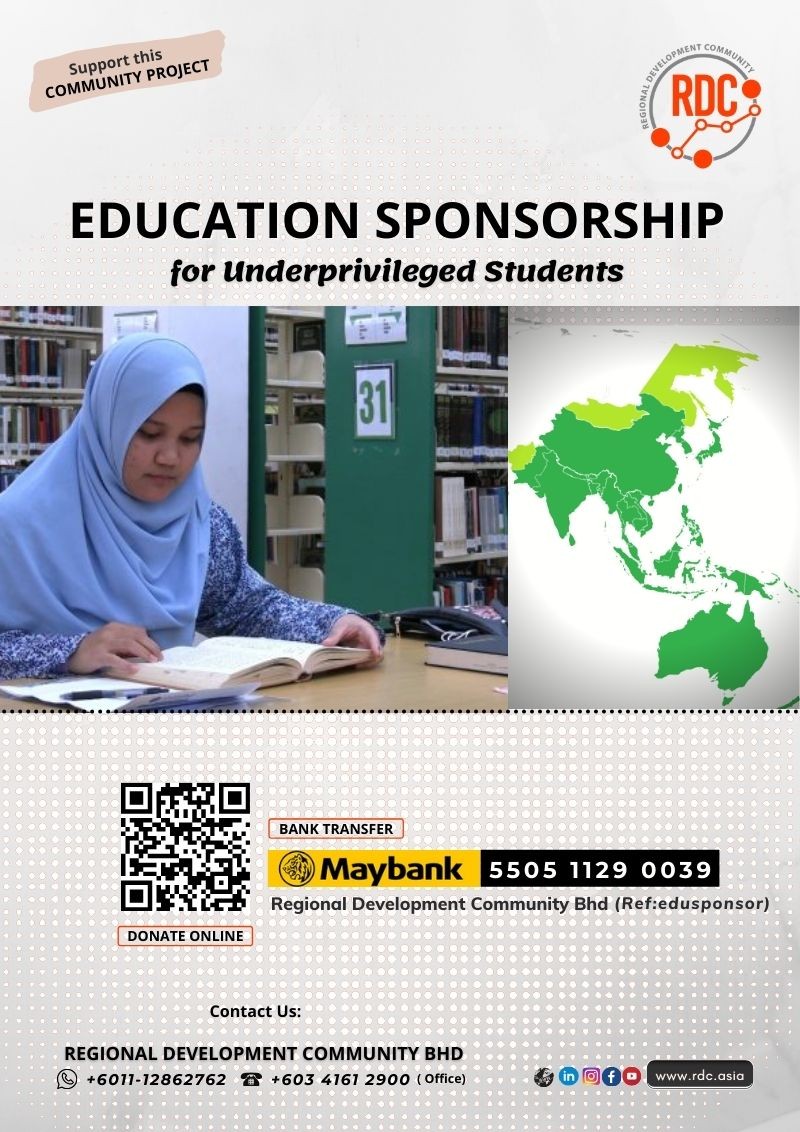 ---
Tags
RAMADAN CHARITY, INFAQ, EDUCATION SPONSORSHIP
Description
EDUCATION SPONSORSHIP PROJECT
Regional Development Community Berhad (RDC) is a company limited by guarantee (CLBG) established with the aim of creating sustainable communities across the Asia Pacific region in a holistic approach grounded on principles of empowerment, inclusion, social justice, and collective action. RDC works together with identified collaborators from these countries via community engagements, business ventures and development projects that are in line with some of the United Nation's Sustainable Development Goals (SDGs).
RDC inspires to build the capacity for higher education in the communities in line with SDG 4 targets to ensure equal access for all women and men to affordable and quality technical, vocational and tertiary education, including university and to provide lifelong learning opportunities for youth and adults. In many parts of the Asia Pacific region, there are students who are from underprivileged families yearning to pursue their further studies in order to improve their lives and the lives of others around them.
This project aims to set up a Scholarship fund that awards scholarship to selected students in the Asia Pacific region who seek to further their study or students already pursuing their study with financial difficulties.
Photo 1:
 Sister Adlina, a student from Timor Leste.
The Project Objectives:
In the immediate term, RDC plans to embark on raising funds to sponsor students from Asia Pacific region to further their study This project shall fulfil United Nation SDG (Sustainable Development Goals) No 4, which is providing Quality Education.
The Project Cost:
Estimated cost of RM50k per student for 10 students =
RM500,000
How to Donate:
SUPPORT THIS PROJECT
Donate RM 500 / RM 100 / RM 50 / RM 10
BANK TRANSFER:
Bank: Maybank Bhd
Account Name: Regional Development Community Berhad
Account No: 5505 1129 0039
Ref: edusponsor

Contact Us:

Email: info@rdc.asia

Office: +603 4161 2900

WhatsApp:  +6011-12862762
Terms
Term and condition
Receipt will be issued for all contributions/infaq received.